Capacity Building
Vermont Grant Program
Featured grant partner stories
Outright Vermont
As the go-to resource for LGBTQ+ youth across Vermont, Outright Vermont works to build safe, healthy, and supportive environments for gay, lesbian, bisexual, transgender, queer, and questioning youth ages 13-22. Founded in 1989, Outright Vermont (Outright) operates under an organizational model built on youth-adult partnerships which create mutual opportunities for growth, learning, and skill development. Outright's comprehensive initiatives help youth develop self and peer connections, strengthen families, and transform schools, communities, and systems.
The three-year capacity-building grant will help enable Outright to increase the accessibility of its programs and services for youth, their families, and communities. In the next three years, Outright plans to expand and strengthen its statewide reach, with a focus on improved and enhanced service delivery for the most at-risk LGBTQ+ youth of color, youth in rural regions, and other LGBTQ+ youth most disproportionately impacted by adversity. The grant was awarded in 2019.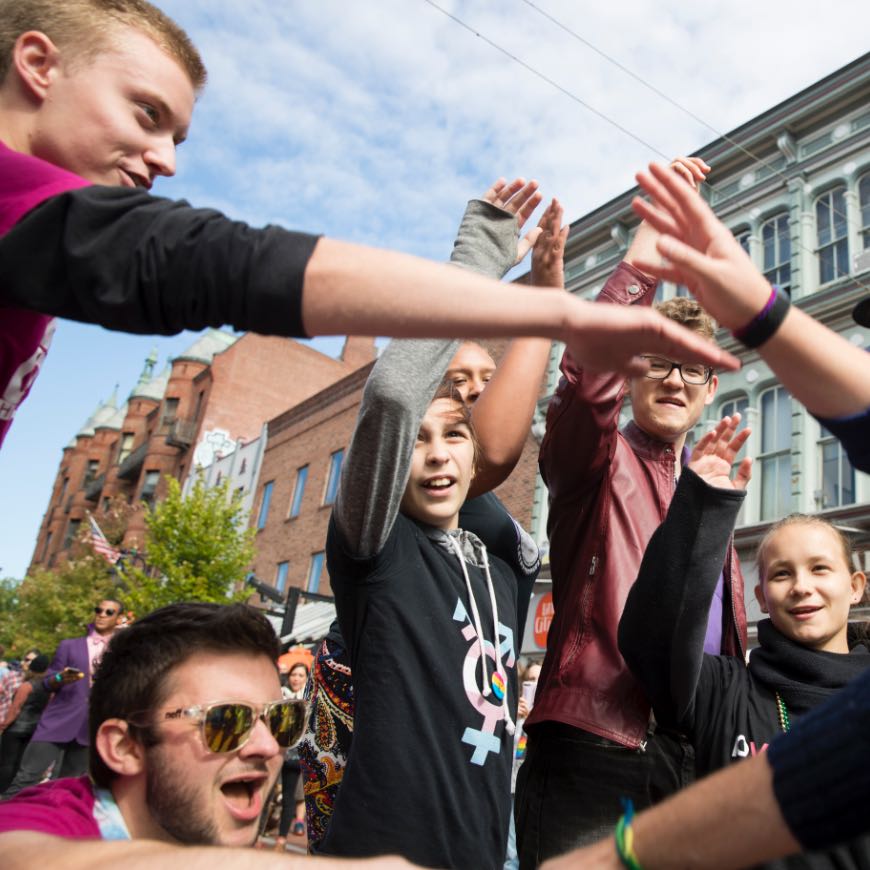 Salvation Farms
Salvation Farms works to build increased resilience in Vermont's food system through agricultural surplus management. They do this by fostering collaborative, cross-sector partnerships that create efficient management practices for Vermont's farm surplus through the engagement and utilization of available resources, skills and knowledge. Founded in 2005 as a grassroots gleaning collective, their approach to on farm surplus food management has grown to include aggregation, processing, workforce development, technical assistance, research, and advocacy. Among their achievements are: the creation of an online platform to support gleaning coordination and to track impact; operating Vermont's first surplus crop food hub in tandem with a workforce development initiative; and conducting the nation's first, state-focused food loss on farms study. SF has gained national recognition as a leader in addressing on-farm food loss through innovation and partnerships.
Capacity Building grant funds will be used to engage consultants support organizational and leadership development. With the commitment of staff and board SF will make progress in the following areas: Board Development; Leadership & Organizational Culture Development; Succession Planning; Improving Administrative Systems – Financial & Constituent Management; Refining Impact Metrics (Results Based Accountability); and Advance Fundraising Planning. The grant was awarded in 2018.